Welcome to the Emergency Department at Sligo University Hospital
(Photos by Dr Hossam Hamad)
The Emergency Department (ED) at Sligo University Hospital provides Emergency Medical Care to adults and children 24 hours a day, 7 days a week. The catchment area covers Sligo, Leitrim, and South Donegal, as well as parts of counties Cavan, Mayo, and Roscommon. Over 40,000 patients attend the ED every year.
The Emergency Department is located on the Ground Floor of the Hospital.
Patients may access our service via: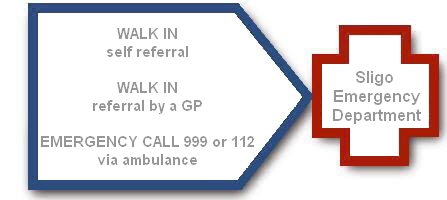 Our aim is to provide high-quality, evidence-based care in a timely fashion to all patients who present to the Emergency Department. Every day we strive to ensure a kind, safe and excellent service and we hope you experience this whilst you are in our care.
Emergency Department Process