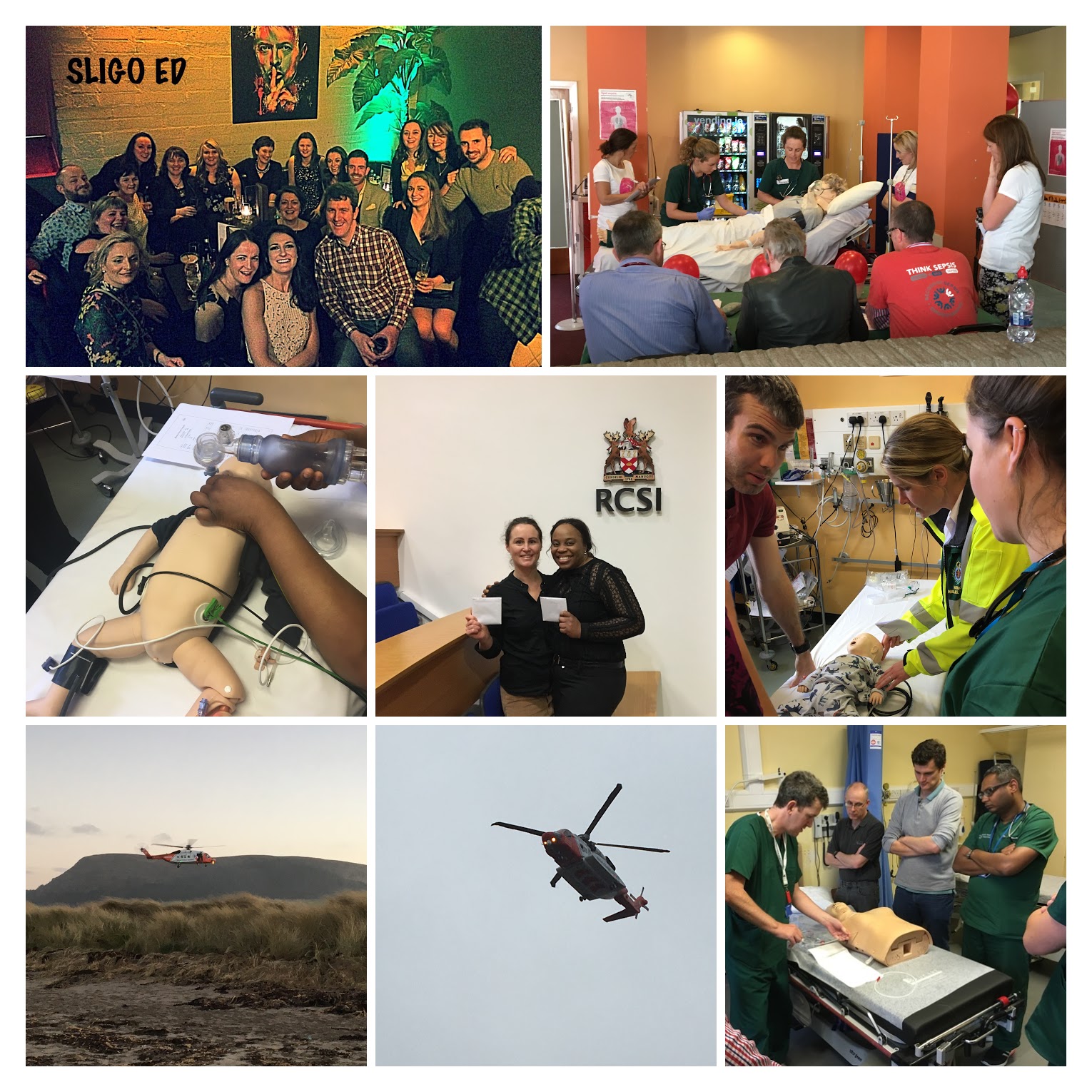 The Emergency Department at Sligo University Hospital has an active teaching programme with weekly teaching sessions for Doctors, Medical Students, and Nursing Staff and Students.
Nursing Students (BNSc) complete a 4-week rotation in the ED.
3rd year and final year Medical students from NUIG
The ED hosts Advanced Paramedics and EMS students from the Ambulance service as part of their clinical attachments.
The ED, in conjunction with the Resuscitation Training Department in SUH, runs regular courses in Basic Life Support (BLS), Advanced Cardiac Life Support (ACLS), Advanced Trauma Life Support (ATLS), and Advanced Paediatric Life Support (APLS).
The Emergency Department at Sligo University Hospital is accredited for Higher Specialist Training in Emergency Medicine by the Irish Committee for Emergency Medicine Training (ICEMT). It is also affiliated with the Sligo Vocational Training Scheme in General Practice. The Department is also part of Basic Specialty Training in Emergency Medicine, General Practice, Medicine and Surgery.
Research Projects
CSTEM Presentations Meeting RCSI Dec 2016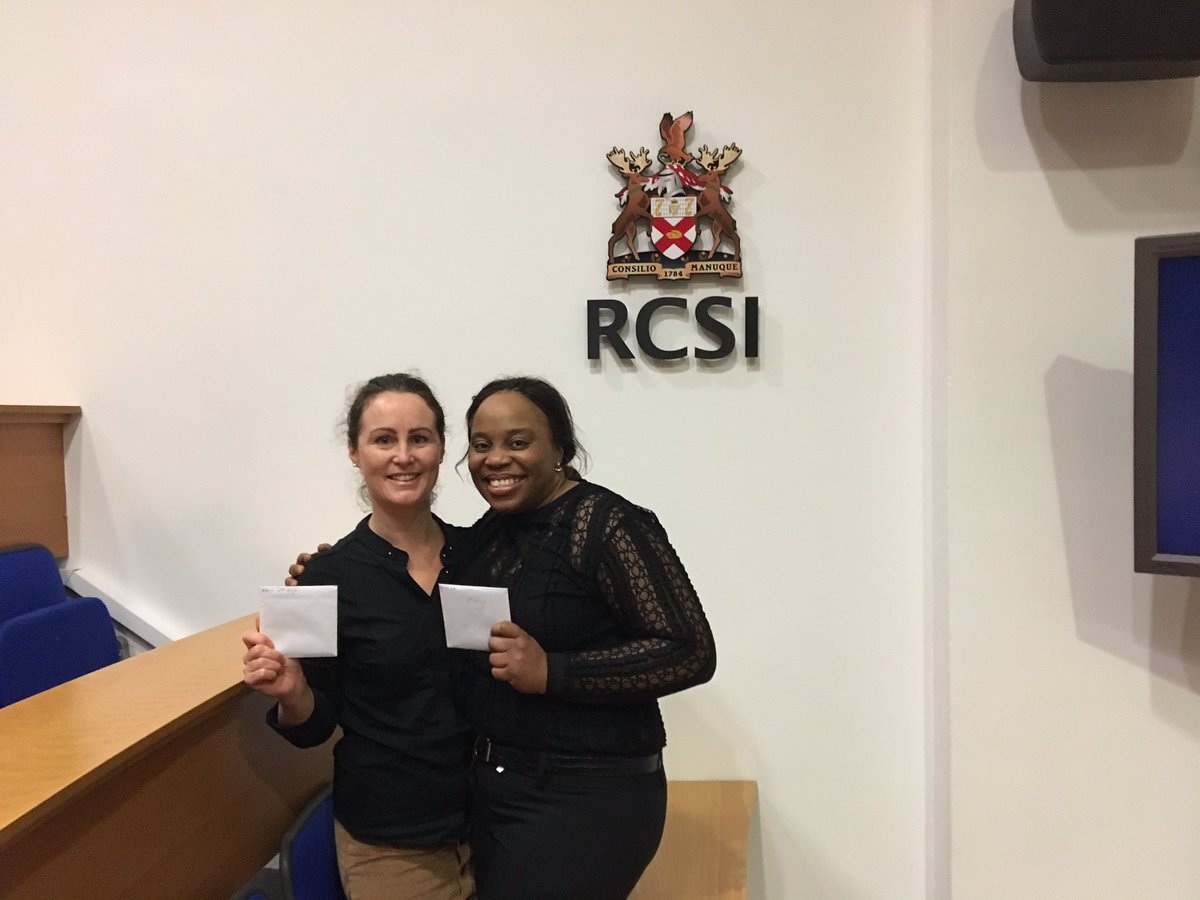 Award:
1st and 2nd Prizes
Sligo ED CSTEM Trainees Dr Emma Roemmele and Dr Yewande Olupitan win 2nd and 1st prizes at the National CSTEM Presentations Meeting . Their presentations were on An Unusual Case of Traumatic Neck Swelling and NCHD Attitudes to Emergency Medicine respectively
iPERM Paediatric Emergency Research Meeting 2014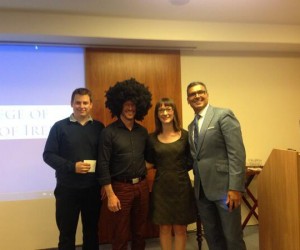 Award:
Best Oral Presentation
Title:
Paediatric procedural sedation in the ED: the experience in Sligo Regional Hospital
Author: 
Michael Bennett
Presentation
Photo: Michael Bennett receiving his prize, with Dr Turlough Bolger (Tallaght), Dr Roisín McNamara (Temple St), Dr Sam Deiratany (Temple St).
IAEM/Leo Pharma Prize Awards 2009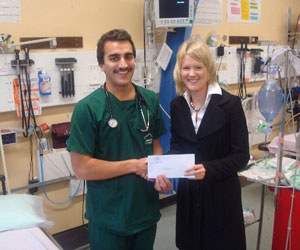 Award:
Best Poster – Adult Emergency Medicine
Title:
The introduction of an Emergency Department care pathway for patients presenting with Renal Colic.
Authors: 
Vinesh Ramiah, Michael Sweeney, Adrian Gheiti.
Photo: Orla O'Donnell, Critical Care Representative, Leo Pharma presents Dr Vinny Ramiah, Sligo Regional Hospital with his prize.
Abstracts, Posters and Presentations
Title: Reperfusion of Ischaemic Stroke 220km away from nearest Interventional Neuroradiology Centre – Introduction of a new pathway and a review of one Emergency Department's practice over 18 months. (IAEM 2017 Galway)

Authors: R Daly, E Herridge, H Hamad, A Stevenson, M Sweeney 
Title:  Update on ATLS (ICEM 2018 Mexico City)

Presenter: F Hickey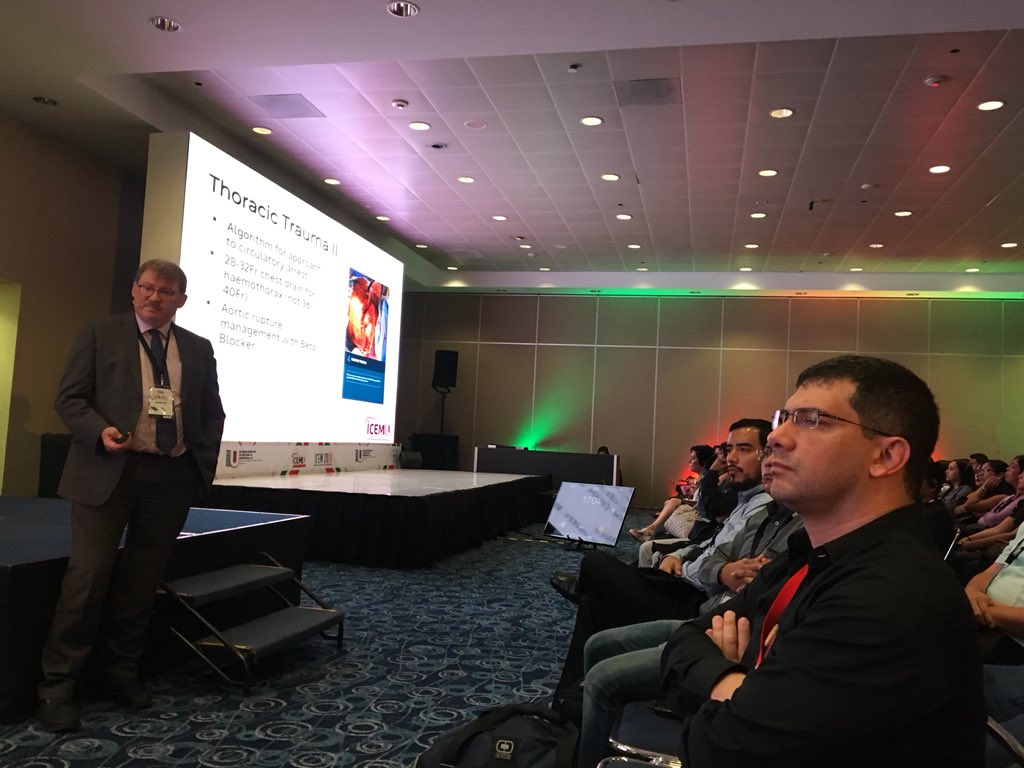 Title:  #SNAPPED: Sonography by Nursing Advanced Practitioners for Assessing Paediatric wrist fractures in the Emergency Department (ICEM 2018 Mexico City)

Authors: M Rice, M Sweeney, K Harris, D Guckian, J Groarke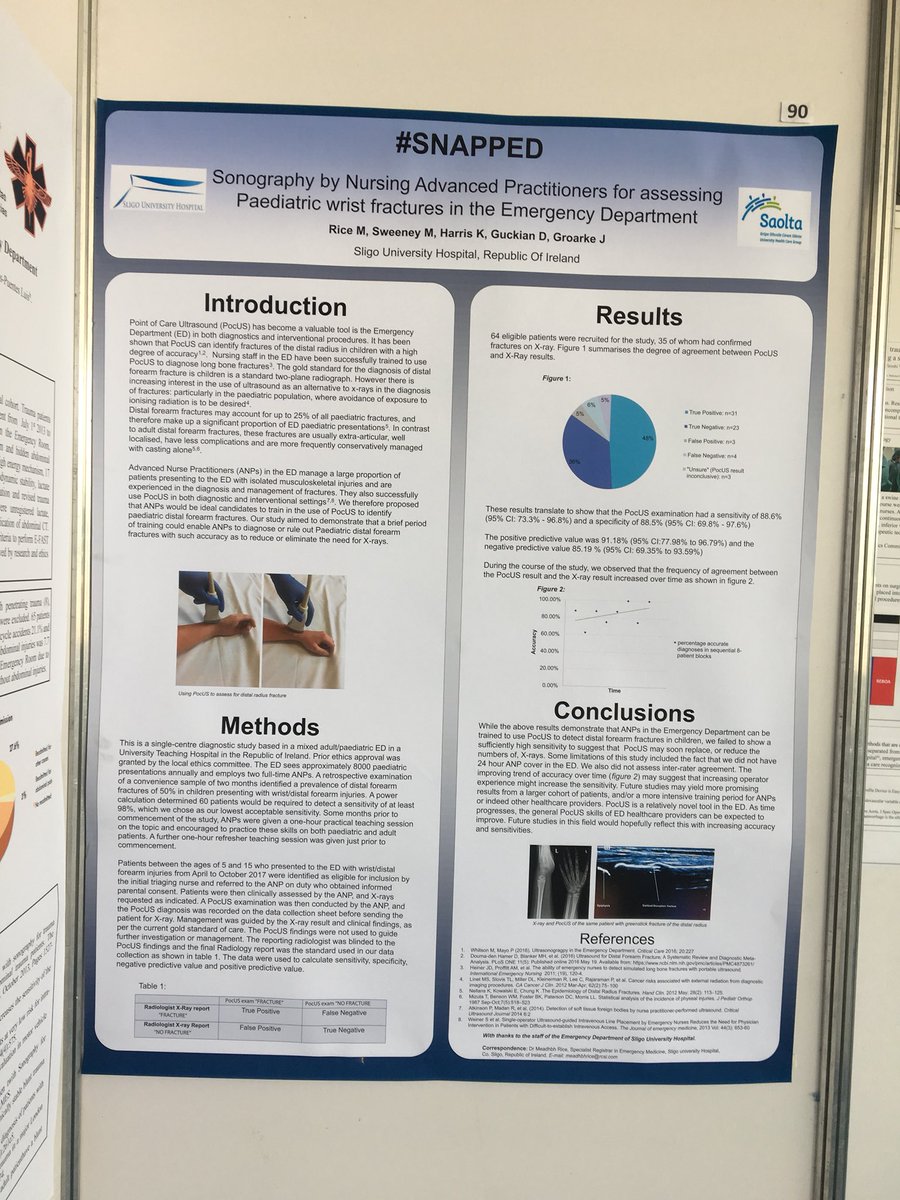 Title:  POCUS on the Heart (ICEM 2018 Mexico City)

Authors: K Langtree, I Van Dijk, E Herridge, Y Oluptian, M Sweeney, K Harris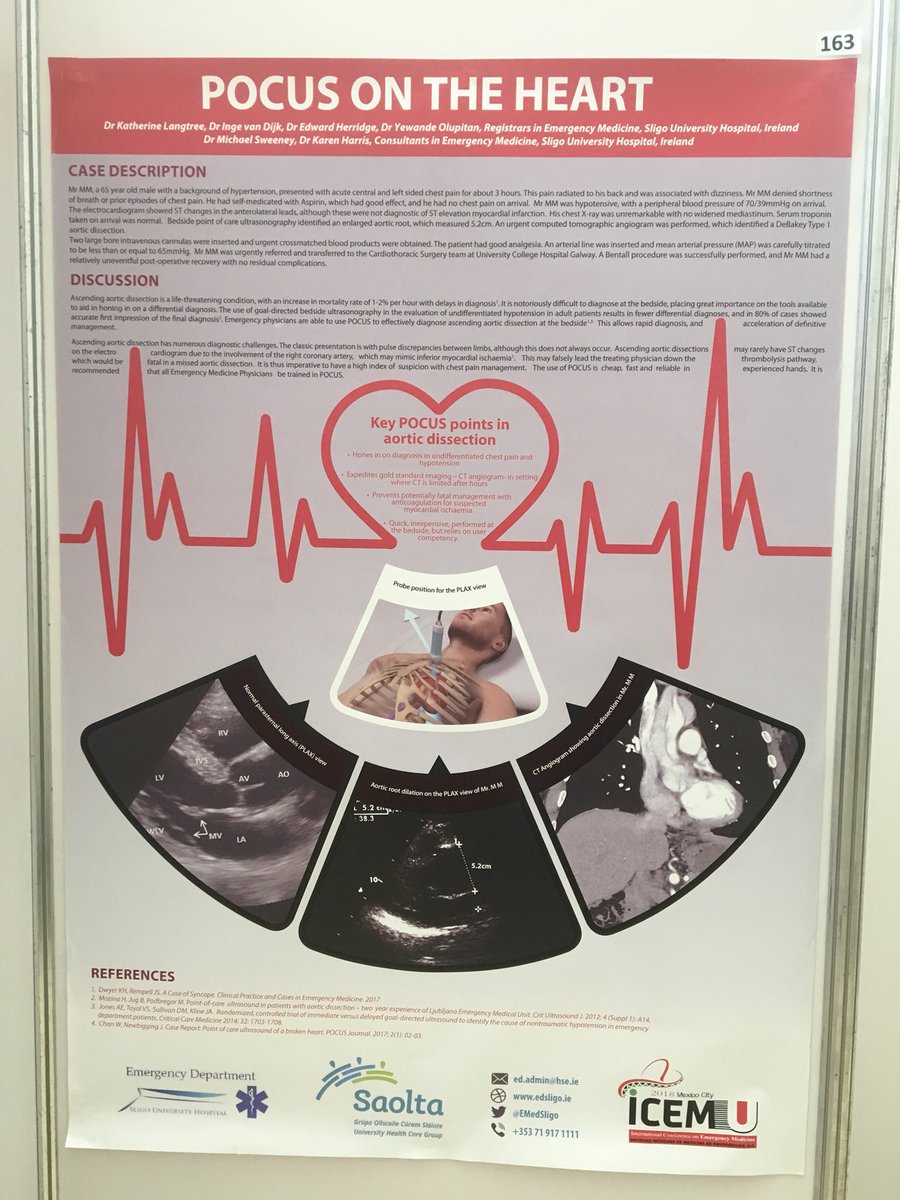 Title:  An Exploration of Medical & Nursing Professionals' Experiences of Teamwork during In-Hospital Cardiopulmonary Resuscitation Events (ICEM 2018 Mexico City)

Authors: S Johnson, C Houghton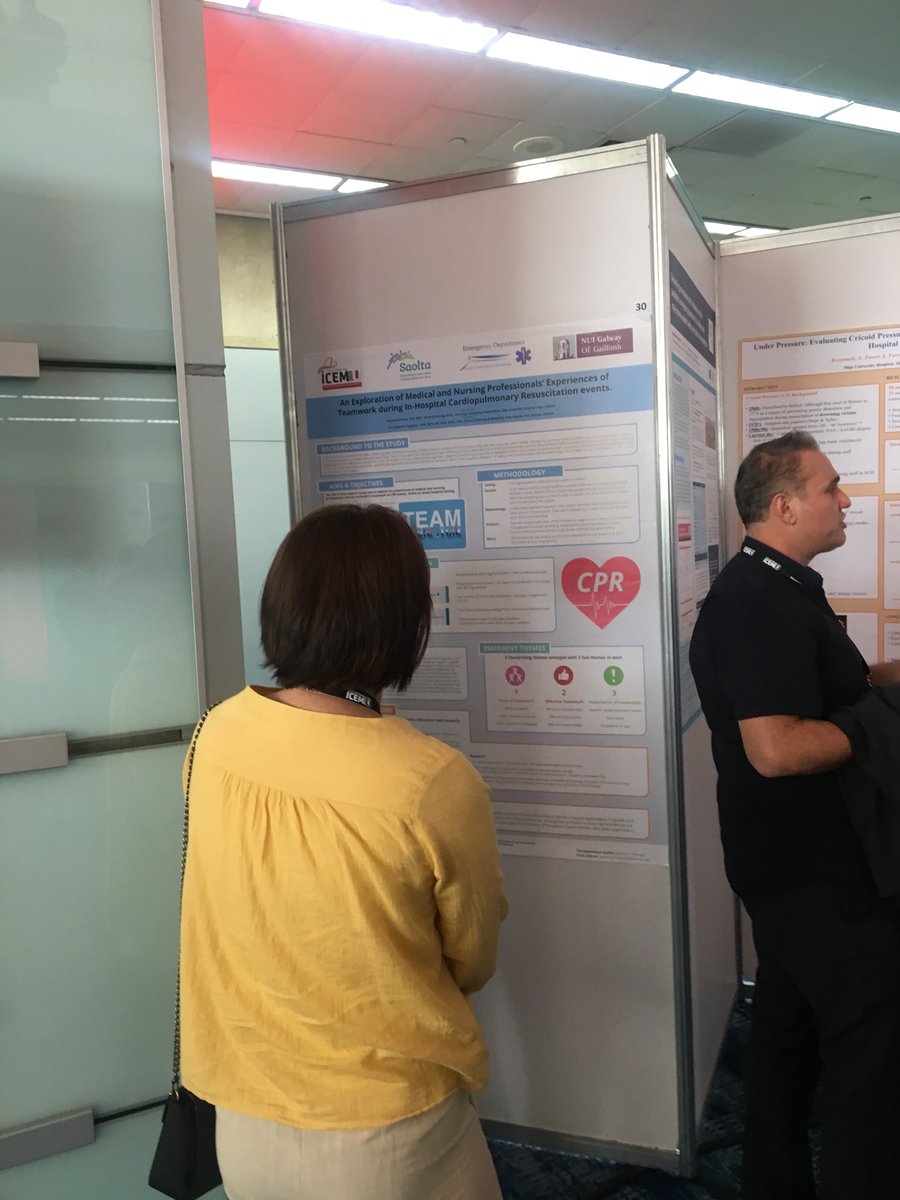 Title:  Under Pressure: Evaluating Cricoid Pressure Application at Sligo University Hospital (ICEM 2018 Mexico City)

Authors: E Roemmele, S Power, S Farrell, M Lulic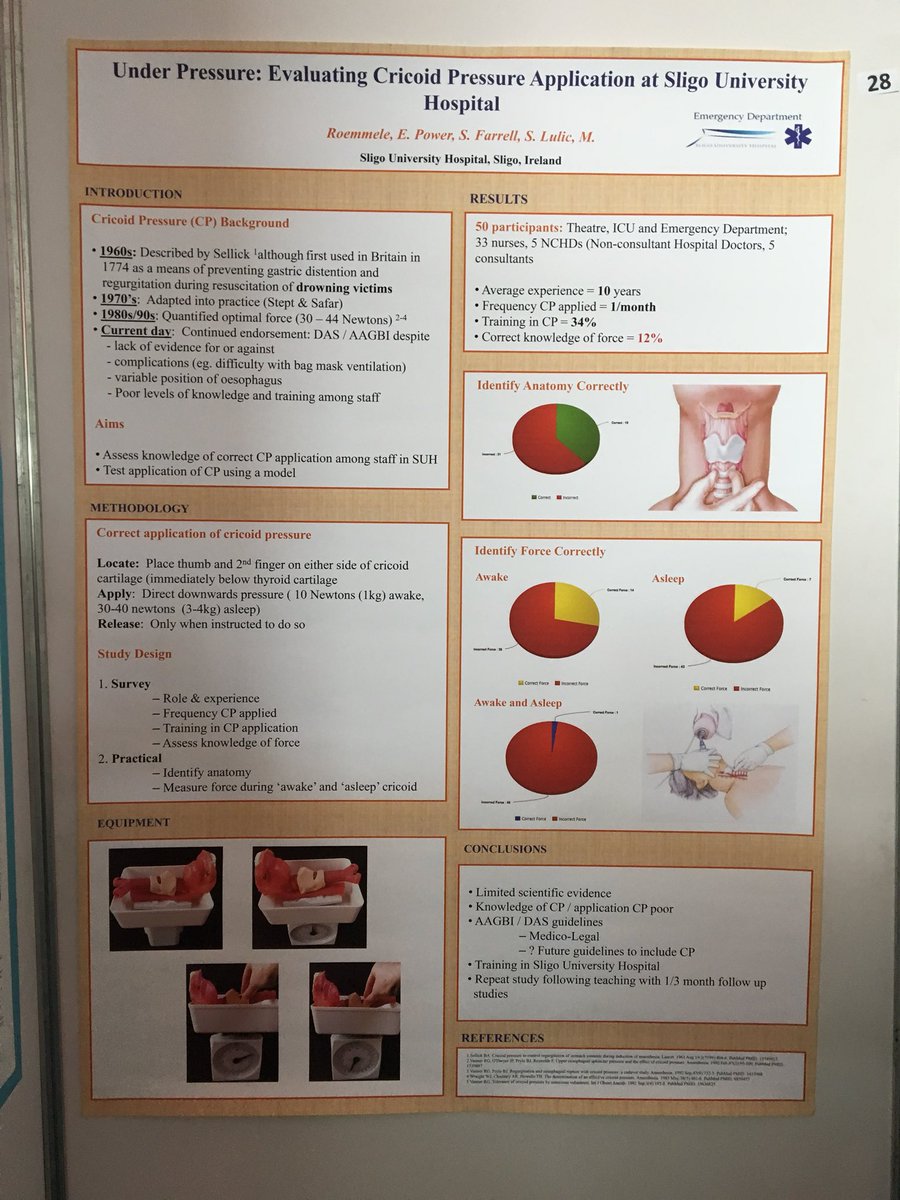 Title:  Safer, Better, Faster treatment of patients with Deep Vein Thrombosis

Authors:
K Harris, G O'Malley, M Khalil Poster
Title:  Checking Paediatric Blood Sugars at Triage – A Quality Improvement Project

Authors:
C O'Rourke, K Harris Poster
Title: ATLS – The Good, the Bad, and the Ugly
Presenter: F Hickey (ICEM 2016 CapeTown)
Title:
Antibiotic Prescribing for Sepsis in Sligo University Hospital Emergency Department
Authors:
E Roemmele, K Harris, R O'Cathasaigh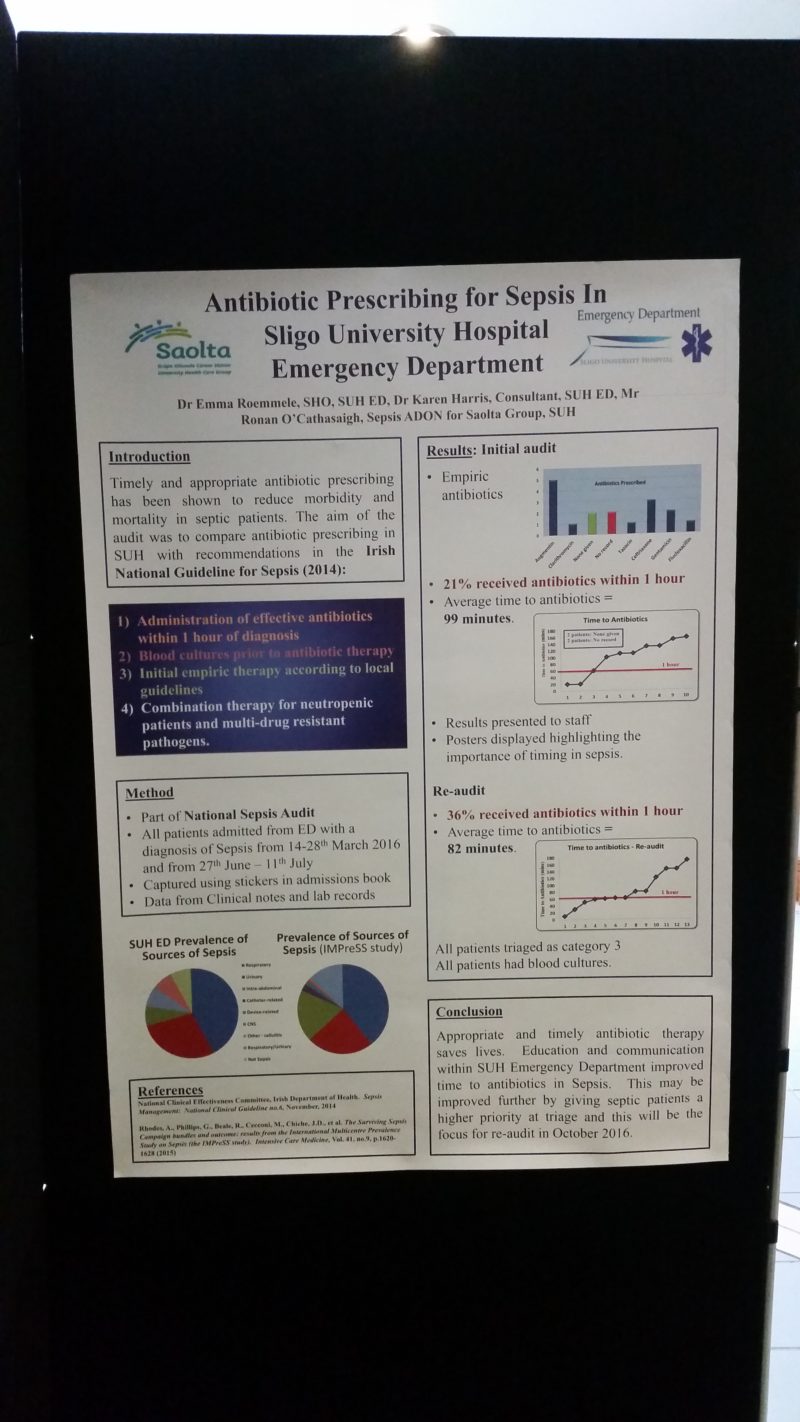 Title:
Art in the Waiting Room: A Quality Improvement Project – The Emergency Department Collaborating with the Local Community
Authors:
M Sweeney, H O'Shea, M Hynes, G Rutherford Poster

Title:
Painful thumb post anaphylaxis: a case of digital limb ischaemia
Authors:
S Gilmartin, M Hussain, M Sweeney Poster

Title:
Time to Intranasal Fentanyl in Acute Paediatric Presentations to an Emergency Department, A Closed Loop Audit
Authors:
S Gilmartin, L Cunningham, A Rodgers, M Sweeney Poster
Title:
The Scaphoid Train. An Audit of Patients with Suspected Scaphoid Fractures in the
Emergency Department of Sligo University Hospital
Authors:
K Harris, P Gallagher Poster

Title:
Spontaneous Subcapsular Renal Haematoma in a Patient with Renal Sarcoidosis: A Case Report
Authors:
M Rice Poster

Title:
Cyberspace: Another Access Point to the Emergency Department
Authors:
Dr C. McDermott, N. McDermott, Dr M. Sweeney.   Poster
Title: 
Intralipid Emulsion Therapy: Management of Cardiotoxic Poisoning
Authors:
Dr C. McDermott, Dr M. Sweeney.  Poster
Title:
The Serotonin Syndrome as a Result of Mephedrone Toxicity.
Authors:
Gerard Garrett, Michael Sweeney.  
BMJ Case Reports Published 1 January 2010;published online 21 September 2010, doi:10.1136/bcr.04.2010.2925
Title:
Child Protection in Emergency Departments in the Republic of Ireland
Authors:
Dr H Cummins, Dr K McHugh, Dr A Ibrahim, Dr K Cunningham.  Poster
Title:
Emergency Department Services for Children in the Republic of Ireland
Authors:
K. McHugh, H. Cummins, A. Ibrahim, K. Cunningham.  Poster
Title:
Blunt Thoracic injury & the Management of Mutliple Rib Fractures
Authors:
V Ramiah, F Hickey.  Poster
Title:
Farm Injuries Presenting to a General Hospital
Authors:
Dr G Lecky, Dr K Cunningham.  Poster
Title:
Hard Landings: Injuries From Bouncy Castles
Authors:
Dr O O'Flynn, Dr K Cunningham.  Poster
Title:
Introducing Emergency Department Fascia Iliaca Compartment Nerve Block for Hip Fractures.
Authors:
Dr K McHugh, Dr T Lynch, Dr K Cunningham.  Poster
Title:
Multiple Allergic Reactions following Mass Chemoprophylaxis for Meningitis
Authors:
Dr Aidan Ryan, Dr Kesokotse Seitsukulo, Dr Anthony Breslin, Dr Peter Wright, Dr K Cunningham.  Poster
Title:
New Care Pathway for Renal Colic
Authors:
V Ramiah, M Sweeney.  Poster
Title:
Violence Related Injury in Children Attending an Inner City Emergency Department
Authors:
Dr DR Green (Mater Infirmorum Hospital, Belfast), Dr K Cunningham (Sligo Regional Hospital)  Poster
Title:
Making Waves In The West. A Study of Water Sport Related Injuries Presenting to an Emergency Department in the West of Ireland
Authors:
T.Breslin(St. James' Hospital, Dublin 8.), K.Cunningham (Sligo Regional Hospital).  Poster
Title:
A Survey on the management of communications regarding at Risk children who may present to Emergency Departments in Ireland
Authors:
V Ramiah, K Cunningham.  Poster