Poet William Butler Yeats once described Sligo as "The Land of Heart's Desire" and it's easy to see why.
Visitors continue to fall in love with Sligo today, wooed by the iconic table-topped mountain of Ben Bulben, twinkling lakes such as Lough Gill and Lough Arrow, and the endlessly long beaches that face the great Atlantic.
Visit historic Sligo landmarks like Carrowmore Megalithic cemetery, the Carrowkeel & Creevykeel tombs and Knocknarea Cairn. Waymarked ways and looped routes tempt cyclists and hikers, while golfers swing in style at championship courses at Rosses Point, Strandhill, and Enniscrone. And for those seeking culture, with an eclectic mix of ceilidhs, trad music and festivals like Sligo Live and Temple House Music Festival, Sligo is where it's all happening.
During the day…
you can build up an appetite by trying out some of the many activities Sligo has on offer. You can Surf on some of the best waves Ireland has to offer or you could try something more adventurous like Shark Fishing off Mullaghmore. Maybe a river cruise on Lough Gill sounds more appealing or simply relax in the world famous Voya Seaweed baths in Strandhill.
After your day's activity…
you can then try some of foods on offer in Sligo's many award-winning pubs & restaurants.
Cultural & Heritage
The Yeats Trail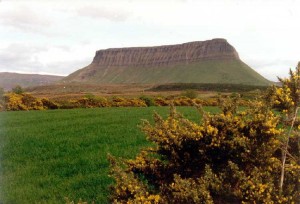 Departing from Sligo City, this is an opportunity to revisit the sights and scenes that inspired some of the most beautiful poetry and paintings of the 20th century. The route follows quiet country roads in a diverse variety of scenery stretching along the wild Atlantic coast and around gentle lapping lakes.
The Yates Trail includes visits to locations associated with the illustrious W.B. Yeats. It includes Strandhill Peninsula, The Circuit of Lough Gill, Glencar Waterfall, Rosses Point, Drumcliff and Lissadell House.
"Come away, O human child!
To the waters and the wild…"
The Stolen Child.
Willian Butler Yeats 1886.
Sligo Abbey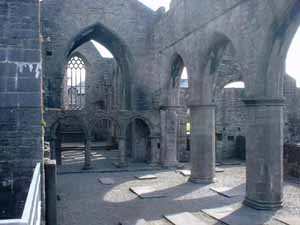 Known locally as the Abbey, this Dominican Friary was founded in the mid – 13th century by Maurice Fitzgerald. The site contains a great wealth of carvings including Gothic and Renaissance tomb sculpture, well preserved cloister and the only sculptured 15th century high altar to survive in any Irish monastic church. This enigmatic friary will inspire and enlighten it's visitors. Access to site is by stone stairway.
Read More >>
Carrowmore Methalitic Tombs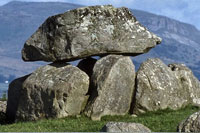 The largest and one of the most important megalithic sites in Europe. Carrowmore (Irish: Ceathrú Mór, meaning Great Quarter) is the site of a prehistoric ritual landscape on the Knocknarea or Cúil Irra Peninsula in County Sligo in Ireland. It is one of the four major passage tomb cemeteries in Ireland.
Around 30 megalithic tombs can be seen in Carrowmore today, and the traces of more (ruined) tombs have been detected. The tombs (in their original state) were almost universally 'dolmen circles'; small dolmens with boulder circles of 12 to 15 meters around them. The tombs are distributed in a roughly oval shape surrounding the largest monument, a cairn called Listoghil. The dolmen 'entrances' – crude double rows of standing stones – usually face the area of the central tomb.
Read More >>
The Model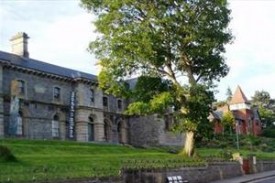 The Model, home of The Niland Collection, is one of Ireland's leading contemporary arts centres.
Built in 1862 as a Model School, the present building has been extended twice. The first extension was in 2000 when it was completely refurbished and extended by McCullough Mulvin Architects. The building was redeveloped again by architects Sheridan Woods in 2010, whose extension to The Model has increased the building by a third in size to create a world-class visitor centre. The building boasts a restaurant and coffee dock, a bookshop, a wonderful gallery circuit, a purpose built performance space, and a suite of impressive artist studios on the top floor with enviable views of Sligo town and County.
Read More >>
Sligo's Music Sessions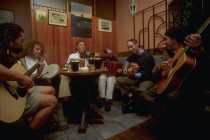 Music is key to County Sligo's atmosphere so don't be suprised if you find yourself slap bang in the middle of an impromptu traditional session. Traditional music is a strong vein that runs throughout the county and is synonymous with South Sligo.