Congratulations to our Specialist Registrar, Dr Michael Bennett who won the prize for best oral presentation at the Irish Paediatric Emergency Research Meeting on Friday 4th July 2014.
Michael presented on the experience in Sligo ED of using ketamine as part of a safe sedation pathway in children undergoing painful procedures.  He has demonstrated that our practice is both safe an effective.  You can read about his work and how we do things here.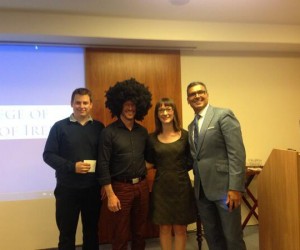 Photo: Michael Bennett receiving his prize, with Dr Turlough Bolger (Tallaght), Dr Roisín McNamara (Temple St), Dr Sam Deiratany (Temple St).
Unfortunately Michael's time with us in Sligo has come to an end today.  We wish him well in his new post in Crumlin on Monday.  Indeed, we would like to thank all our non-consultant hospital doctors for their hard work and look forward to meeting our new trainees on Monday next.